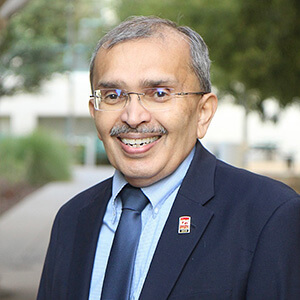 Welcome to the Department of Mechanical Engineering at San Diego State University (SDSU). Whether you are a prospective student, a parent, someone from our large family of alumni, potential partners in education and research, or just a casual visitor, I am delighted that you have decided to visit us and I look forward to further interactions. The department has seen significant growth in faculty and student numbers, resource availability, and research impact in recent years. The department currently (Fall 2020) has approximately 1100 undergraduate and 100 graduate students. We have 21 tenured/tenure-track faculty, 11 lecturers, and 5 adjunct faculty. A highly competent staff supports the activities in the department. The department houses several undergraduate laboratories, and graduate research laboratories with concentrations in automation and control, bioengineering, design, energy systems, fluid and thermal sciences, high performance computing, manufacturing, materials, and mechanics.
Our size and growth notwithstanding, we have an unwavering commitment to the success of our students. Our Bachelor of Science degree in Mechanical Engineering (BSME) is accredited by the Engineering Accreditation Commission (EAC) of ABET. Students can also get a BSME degree with an emphasis in Bioengineering. Graduate degrees that are offered include an integrated five-year Bachelor and Master of Science (BS/MS) program in Mechanical Engineering or Bioengineering, Master of Science in Mechanical Engineering (MSME), Master of Science in Bioengineering (MSBE), Master of Engineering (MEng), and a joint doctoral (PhD) program with University of California, San Diego. Each of the ME faculty members is committed to helping students acquire the very best education. We have been at the forefront of developing new pedagogical paradigms including textbooks that have gained national recognition. Emphasis on fundamentals of mechanical engineering coupled with hands-on experience is a distinguishing feature of our undergraduate program. Students actively participate in student clubs and organizations like the student chapter of the American Society of Mechanical Engineers, Aztec Electric Racing, Formula and Baja Racing, Mechatronics Club, and Biomedical Engineering Society. Students in these clubs participate in national and international competitions and have won top prizes in recent years. Our graduates have gone on to pursue successful careers in industry and government with many holding leadership positions.
Our faculty are actively engaged in research and creative endeavors. Current average research funding is approximately $185K/faculty. The research in the department is sponsored by federal and state agencies and by industry. Several of our faculty have won prestigious awards and gained national/international recognition for their research contributions. Several faculty members are investigators on large-scale multidisciplinary and/or multi-university research grants. While the high level of research intensity generates a sense of excitement on its own, it also enhances our teaching abilities by keeping us in the forefront of knowledge in our areas of specialization. This has created an environment where both graduate and undergraduate students are actively engaged in research at the cutting edge of mechanical sciences and engineering. Research facilities are located in the Engineering Building and the recently opened Engineering and Interdisciplinary Sciences Complex.
Thank you for your interest in our program. Please feel free to contact us for more information or to arrange a visit.
John Abraham, Ph.D.
Professor and Chair